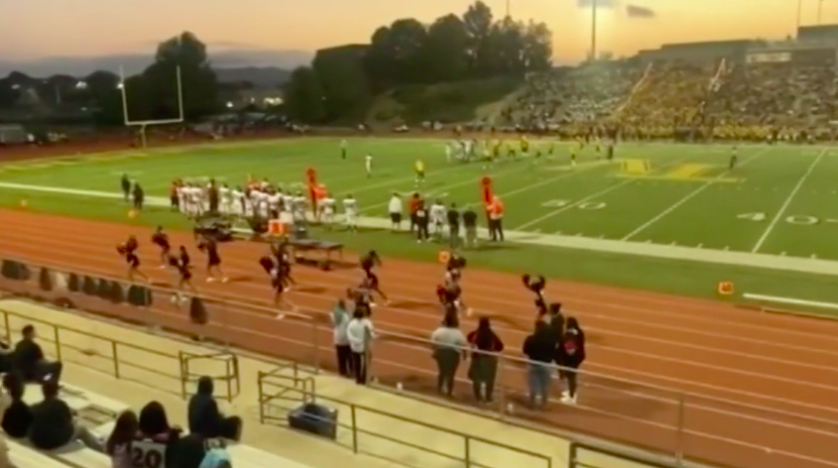 Racial slurs at Cheer Squad during football game – NBC Los Angeles
Students held a rally outside Temecula Valley High School on Monday morning following an incident Friday night when classmates allegedly used racial slurs during a soccer game against the cheering team from Valley View High School.
Tony Kingsberry, who has a 14-year-old daughter who attends Temecula Valley High School, said the principal sent an email informing parents of the allegations.
"It hurts," Kingsberry said. "And people just don't understand that pain, whether it's young kids in high school or adults. Even though he hasn't addressed the real insults, I've been there quite a long time as a 'African American to know it is very hurtful, no matter what the racial slurs. "
Witnesses posted about the incident on social media. One woman said, "My sister shouldn't have to go through this in her first game or any other.
Another person said the racist slurs and harassment were so severe that some of the Valley View cheerleaders were crying as they left the field.
Moreno Valley Unified and Temecula Valley Unified both issued statements saying they condemned any kind of racist language.
School districts are now investigating the allegations and vowing to hold those responsible accountable.
In 2019, someone wrote a racial insult about a black student on the doors of Temecula Valley High School.
The director sent a note saying that hate speech, racism or discrimination will not be tolerated.
"There is no place for hatred," said Becky Sulzmann of Temecula Unity, an equality group. "There is no place for racism in our community, especially in Temecula."
Temecula Unity raised over $ 1,500 for the Valley View Incentive Program.
She said children who said racial slurs needed to be identified and educated.
"These kids are learning from this. They are growing up for the better," she said.