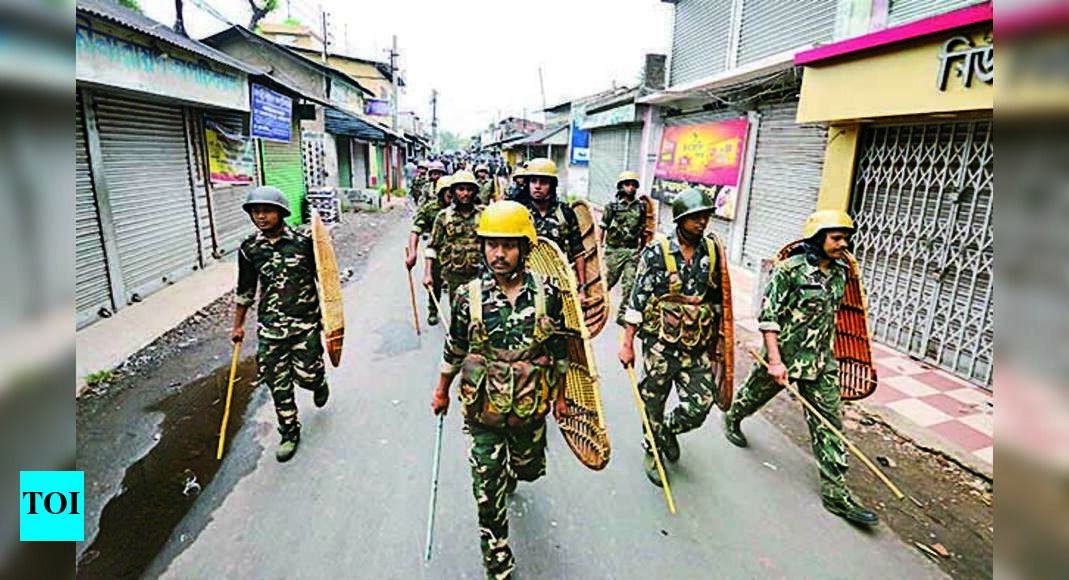 Protests against hate speech: Maintain community harmony, urges Hc | Kolkata News
Calcutta: The Calcutta High Court on Wednesday urged maintaining community harmony while ordering the state government to take all measures to thwart any untoward incidents and restore law and order amid protests against the offensive comments by BJP spokespersons about the Prophet Muhammad.
Taking note of the report on the measures taken submitted by the state government, the court also ordered him to call in the central forces if things got out of hand. At the same time, Chief Justice Prakash Shrivastava appealed to the petitioners' advice to help maintain community harmony.
The divisional bench of Chief Justice Shrivastava and Justice Rajarshi Bharadwaj reserved orders on the seven petitions calling for the deployment of central forces and a National Investigation Agency (NIA) investigation into the incidents of violence.
Solicitor General SN Mookherjee told the court that the police arrested and filed FIRs against the troublemakers and those who damaged public property. In an affidavit, Mookherjee gave a detailed account of the actions taken in 10 police districts. The state further said there have been no new issues in the past 48 hours and the situation is under control.
The petitioners pleaded with the bench to ban religious and political gatherings for the time being. Their lawyers insisted on the deployment of central forces, pointing to the failure of the state police intelligence services and their inability to take control of the situation in several places. The petitioners alleged that the police stood as "silent spectators" to the violence.
Lawyers further complained that a host of BJP leaders were detained by police while traveling on the national highway.
In response, Chief Justice Shrivastava called on lawyers to tell their clients to maintain communal harmony. "You are all leaders of the Bar. At least make it clear to the parties you represent that they must maintain the common harmony," he observed.
The Chief Justice then turned to the Advocate General and said: 'What they (the petitioners) are saying is that they fear such things will happen in the future.'
Mookherjee said the state would comply with the court's directive and call in central forces if the situation spirals out of control. He stressed, however, that the discretion to call in the central forces rests absolutely with the state government.