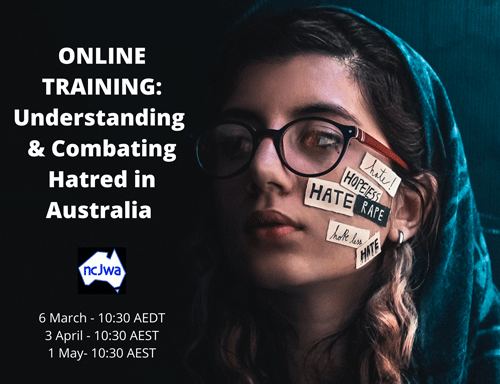 NCJWA Training Series "Identifying and Responding to Bias, Discrimination, and Hate" » J-Wire
February 25, 2022 by Community newsdesk
Read on for the article
The National Council of Jewish Women in Australia has developed a three-part training series for Jewish Australian women to gain knowledge and skills on identifying and responding to prejudice, discrimination and hatred, to interrogate current experiences of antisemitism in Australia and online, and to understand how sexism and misogyny play out among Jewish women.
The Zoom series will help attendees better understand:
What constitutes hate speech
Hate Crime and Discrimination Legislation in Australia
Where you can report and what recourse you have
Antisemitism in Australia
Misogyny and sexism in contemporary spaces
Current issues such as the banning of Nazi symbols and online hate
Held on the first Sunday morning of March, April and May, this training will be delivered by experts in the field and will be an interactive training experience. For those who attend all three sessions, you will receive a certificate of attendance.
The sessions are:
Hate speech and hate crime in Australia – an overview, the legislation and how it deals with antisemitism and misogyny – Professor Katharine Gelber, Head of School, Professor of Politics and Public Policy. School of Political Science and International Studies. The University of Queensland
Reporting and redress for defamation and discrimination – what are my rights and responsibilities, and what should I do if I experience it? – Caron Menashe, Queensland Human Rights Commission, and Julie Nathan, Research Director, Executive Council of Australian Jewry
Misogyny and anti-Semitism? Do Jewish women experience anti-Semitism in a gendered way? – Dr Shannon Zimmerman, postdoctoral fellow at RMIT University's Center for Social and Global Studies, and Professor Lesley Klaff, senior lecturer at Sheffield Hallam University and editor of the Journal of Contemporary Antisemitism
Group discounts available for organizations – contact Danielle at accounts@ncjwa.org.au
Scholarships are available on a case-by-case basis – contact Danielle at accounts@ncjwa.org.au
NCJWA is a Jewish feminist organization committed to promoting social justice and women's rights in all aspects of their lives. At the national level, we do this through advocacy, education and community development.
More info: https://events.humanitix.com/prejudice-discrimination-hatecourse