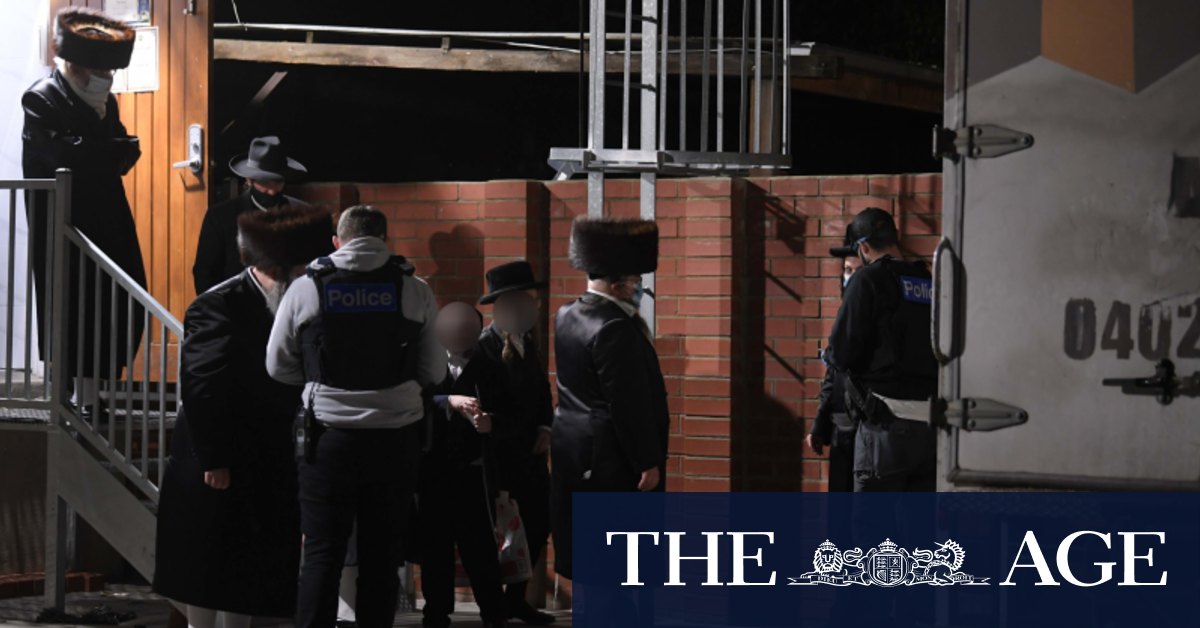 Melbourne's Jewish community faces 'wave of hate' after illegal gatherings during COVID lockdown
Anti-Defamation Commission chairman Dvir Abramovich called for the material to be released and the perpetrators to be investigated by the police.
"Racism is ugly, hateful and ignorant and the public needs to see these people for who they are," said Dr Abramovich. "There is an epidemic of anti-Semitism in Melbourne and it is a problem that we cannot ignore. Times of turmoil have always provided fertile ground for racism, and I am very alarmed by the breadth and depth of the wave of hatred.
Warning: the audio below contains strong and offensive language:
He also expressed concern over the emergence of the anti-vaccine group White Rose, which recently released stickers in Bentleigh and Caulfield that include swastika symbols and the slogan: "No Jab, No Job".
The organization, which started in Britain and recently sprung up in Melbourne, is named after an anti-fascist group led by Hans and Sophie Scholl, who were executed by the Gestapo in 1943 for their campaign of resistance against the Nazis.
The new White Rose group opposes mandatory vaccinations and lockdowns and says the measures are similar to the rise of authoritarian state in Germany under Adolf Hitler. Dr Abramovich said any comparison was offensive and the stickers were deliberately placed "in the heart of the Jewish community" to instill fear.
Warning: the audio below contains strong and offensive language:
"I shouldn't have to say this, but not being allowed into a movie theater or restaurant to stop the spread of a deadly disease has no equivalence with the horrors of being isolated in ghettos, or slaughtered children, or gassed mothers and fathers at Auschwitz, "said Dr Abramovich.
A recent survey of Age, The Sydney Morning Herald and 60 minutes revealed that white supremacist groups were exploiting disinformation about COVID-19 to recruit new members and sow more extremist views in mainstream politics.
The infiltration of the National Socialist Network showed that leaders of the far-right group were protesting against the closures and vaccination, with some members caught attending rallies and shouting anti-Semitic slurs.
The Council of Orthodox Synagogues in Victoria has also been the victim of anti-Semitic attacks in recent weeks, according to President Mark Cohen, who called the abuses "unfathomable".
"It's hard for us to understand where this vile sense of self-righteousness comes from. We are just appalled. We do the same things everyone else, there is nothing different about Jews other than having a religion that we were born into, "Cohen said.
Jewish historian and scholar Mark Baker condemned the rise in anti-Semitism, but said online defamation is not limited to the Jewish community.
Loading
"Anti-Semitism on social media must also be seen in a larger context of vile abuse against other groups – women, Muslims and immigrant communities," said Dr Baker.
He also accused some members of the Jewish community of unfairly claiming that they had been singled out by the Andrews government last month, when COVID response commander Jeroen Weimar apologized after mentioning that some Jews Orthodox had tested positive for the coronavirus.
"I think [Premier Daniel] Andrews, [COVID response commander Jeroen] Weimar and [Health Minister Martin] Foley has acted in an exemplary manner towards all ethnic communities by differentiating between the wrongdoing of the few and the vast majority who play by the rules, "said Dr Baker.
A Victoria Police spokesperson said there was no excuse for behavior that encouraged fear or hatred.
"We take any reports of anti-Semitism seriously, whether it occurs on the streets or online. We encourage anyone who is a victim of these crimes or who notices suspicious behavior to contact the police, "she said.
Stay informed of the most crucial developments related to the pandemic with the coronavirus update. Sign up to receive the weekly newsletter.