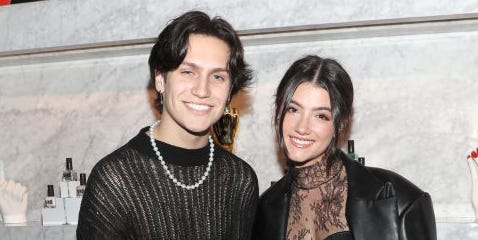 Meaning of the lyrics of the song "All The Things I Hate About You" by Huddy
Chase Hudson (aka Huddy) released his new song called "All The Things I Hate About You"on July 29 and TikTok hasn't been the same since. Since his ex-girlfriend Charli D'Amelio is now dating Landon Barker, social media has been flooded with theories that Chase might be jealous and wrote these lyrics to get revenge on her. For now, these are just rumors and speculation, as Huddy hasn't explained who or what the song is about, but if you're wondering what all the buzz is about, we're breaking down the lyrics to the song. from Huddy for potential references to his past relationship.
But first, let's back up for a second and run through the timeline of Huddy and Charli D'Amelio's relationship. The couple while both were members of the TikTok group Hype House and dated from 2019 to early 2020.
But then, in March 2020, members of another TikTok group, the Sway House, started claiming that Lil Huddy cheated on Charli. Sway House member Josh Richard said his girlfriend, fellow TikToker Nessa Barret, received explicit DMs and photos from Huddy. In response to Huddy's actions, Josh and his friend Bryce Hall made a diss track about Lil Huddy called "Still Softish".
Following the track's release, Chase and Charli posted stories on Instagram on April 14, confirming that they had broken up. The two appeared to remain friends and there was speculation they may have gotten back together in May or June, but more cheating rumors soon followed. Shortly after, Charli took to Instagram and in a tear-filled Insta live stream, told her fans that she and Chase had a "really long talk" and realized they weren't. made for each other.
Even though the couple was separated, they remained close friends, with Huddy releasing the song "America's Sweetheart" and confirming to Daily Elite that the lyrics were about Charli. They continued to attend events together, with Chase even taking part in some of Charli's family vacations.
In June 2022, internet sleuths began piling up clues pointing to a possible blossoming relationship between Charli and Huddy's close friend Landon.
Now Huddy has dropped "All the Things I Hate About You" and many think it's his response to his ex-girlfriend and former friend's relationship. If you're wondering what the lyrics mean and what references Huddy makes to Charli and Landon, check out our breakdown below.
Lyrics provided by Genius
[Verse 1]
Bow down
You deceived everyone, I understood you
Now you're choking on your words, well you should spit it out
Know I gave you the world and you just gave me hell
And you gave me hell

In these lines, Huddy describes feeling abused and manipulated, accusing the person he is singing about of stirring public opinion against him.
[Pre-Chorus]
Felt like a hundred blows
Too many hard to swallow pills
I watched you make it public
Lights, camera, shit
The TikTok star describes the pain he feels, perhaps finding out Charli and his new date (presumably Landon) seeing him publicly, rather than either telling him personally.
[Chorus]
You are a showstopper
A bad liar, homie hopper, drama starter
All my friends are f*****, we all got you in common
You're so fake and everyone should know it
And all the things I hate about you.
[Post-Chorus]
All the things I hate about you, yeah
All the things I hate about the way you handle me
Left me with no explanation
Every word is true, all the things I hate about you
(All the things I hate about you).
The phrase "homie hopper" and the phrase "All my friends are f*****, we all got you in common" are the strongest possible reference to Charli, as her new BF Landon had been a close friend of Huddy's before their relationship began. The boys even starred in Machine Gun Kelly's high falls together.
Huddy further cements that he felt "left without explanation" and manipulated in the post-chorus.
[Verse 2]
You could have had a rockstar
But you picked a bumstar
Bootleg version of me, it's your loss
I had to find out through a photo
Hanging on your arm like a counterfeit.
Seemingly expressing that he feels the person he's singing about chose poorly, Chase refers to the other person as a bumstar.
[Chorus]
[Post-Chorus]
[Bridge]
You won't break me down and say it's all in my head
Holding her hand in that dress the night you left
I'm so sick of the pain, I'll never see you the same again
I guess that's the price you pay for the mess you made.
If the song is really about Charli, it seems there will be no reconciliation between her and Huddy. The singer also seems to reference that girl wearing the same dress she wore around him, possibly adding to his pain and reminding him of their time together.
[Chorus]
[Outro]

The song definitely sparked a fan war, with TikTokers joining #TeamCharli Where #TeamHuddy and using his song on their own videos. Until then, fans can keep listening to the new song, trying to make sense of the lyrics until Huddy All the things I hate about you the clip arrives on July 29.
Abby is an editorial assistant at Seventeen, covering pop culture, beauty, life and health. When she's not busy watching the latest true-crime docu-series, you can find her strolling through Sephora, finding the perfect dress, or jogging with her pup.