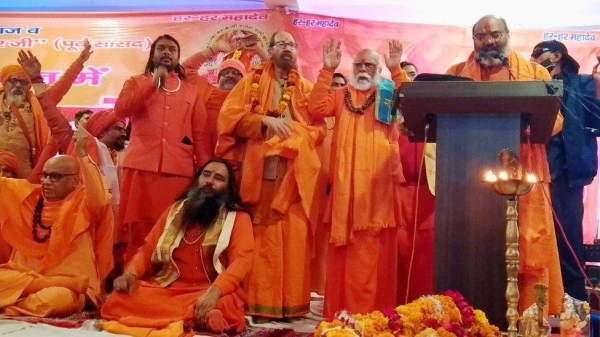 Indian police register case after outrage over anti-Muslim hate speech
NEW DELHI – Police in the northern Indian state of Uttarakhand recorded a case after a meeting of Hindu leaders called for violence against Muslims, the BBC reported.
Videos of the meeting showing provocative speeches by Hindu religious leaders went viral earlier this week, sparking outrage.
The event took place in the city of Haridwar between December 17th and 19th.
But police said they only opened a case on Thursday because there had been no official complaint before that.
There have been no arrests yet and the police case only mentions one man by name, Waseem Rizvi, a Muslim who says he converted to Hinduism and is now known as Jitendra Narayan Tyagi.
Police said a case had been filed against Tyagi and "others" unnamed on charges of "promoting hatred between religious groups".
Social media users, however, identified many of the speakers in the videos who are prominent religious leaders often seen in the company of ministers and members of Prime Minister Narendra Modi's Bharatiya Janata Party (BJP).
Activists say the frequency of hate crimes against Muslims and other minorities has increased since 2014, when the BJP first came to power. Videos of hate speech or violence against Muslims regularly go viral in India.
Critics allege this is due to the support – both open and tacit – the authors receive from key leaders in the ruling party.
One of the organizers of the Haridwar event, Prabodhanand Giri, has often been pictured with party leaders, NDTV reported. In one photo, Uttarakhand Chief Minister Pushkar Dhami, a BJP politician, is seen touching his feet.
During the event, Giri was seen calling on the Indian military, politicians and Hindus to do what was done in Myanmar, referring to the deadly violence against Rohingya Muslims which led to their exodus from the country.
He told NDTV he was not afraid of the police and maintained his statement.
Another speaker, Yati Narsinghanand Saraswati, has made several anti-Muslim statements in the past.
In Haridwar, he, like many others, asked Hindus to collect weapons to "protect" their religion from Muslims.
Ashwini Upadhyay, a former BJP spokesperson who was also seen at the event, said in a video posted to Twitter that he was only present for half an hour on the last day.
Upadhyay was arrested in August in connection with a rally in the national capital, Delhi, where anti-Muslim slogans were being used.
Senior police official Ashok Kumar told BBC Hindi that "such provocative statements are false, so we have also called for the videos to be blocked on social media."
But many on social media have questioned why the police did not register any complaints against any of the speakers and only named Tyagi in their report.
Tyagi was the controversial head of a board that administered properties owned by Shia Muslims, and earlier this month he said he had abandoned Islam and converted to Hinduism.
Kumar told The Indian Express that the case was filed after receiving a complaint from a local resident who only named Tyagi and said he could not identify the others.
Meanwhile, videos from a separate event in Delhi on December 19 also went viral around the same time as those from Haridwar.
In one of them, a journalist who runs a right-wing television station could be seen swearing an oath to a group of people to "die for and kill" to make India a Hindu nation.
He later said he was repeating an oath taken by Emperor Maratha Shivaji in 1645.