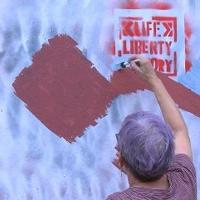 Hate group plots to deface George Floyd mural in downtown Lafayette | News
LAFAYETTE, Ind. (WLFI) – Members of a hate group have conspired to deface a controversial mural again.
The plans were revealed in leaked online discussions late last year among members of the Patriot Front, which is a white nationalist group, according to several anti-hate organizations.
In the chats, they discuss the roofing tar splatter on the George Floyd mural in downtown Lafayette. But they have yet to put those plans into action.
In the threads, they say the mural was "previously visited by (Patriot Front) twice" and note that the band "has two guys in Lafayette".
The non-profit media organization Unicorn Riot leaked online communications between members of the Patriot Front.
You can find the full report here.
The mural has been vandalized at least five times with slurs and paint, including spray-painted stencils associated with the Patriot Front.
Margy Deverall, project manager for the city of Lafayette, helped clean up the mess on several occasions.
"It doesn't surprise me because I read the news so much that I have to take antacids but it disappoints me for sure," she says. "Surprise me? No. Disappoint me? Yes.
She also helps organize the local anti-graffiti team.
"If it happens on a piece of art, you can't just fix it with a roller. You need someone who knows what they're doing with brushes and we have that team," she says. .
As News 18 previously reported, community partners held an event last year to raise awareness about the mural with no new cases of vandalism since then.