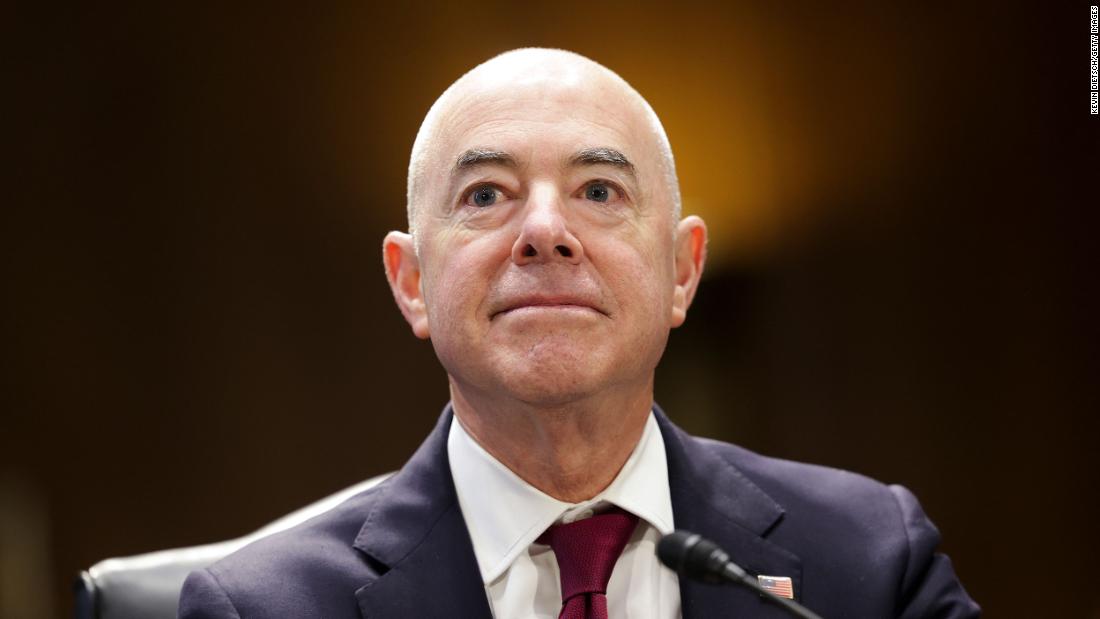 DHS chief Mayorkas says it's 'virtually impossible' to monitor any online hate
Asked if DHS should have detected the 180-page racist screed posted online and attributed to the alleged shooter, Mayorkas replied, "No, because do we monitor every expression of hate on the internet and social media? It would be next to impossible."
Instead, Mayorkas argued that the question is whether someone who has been encountered by the mental health system should be able to purchase guns. State police previously took in the 18-year-old suspect – who allegedly shot and killed 10 people on Saturday – for a mental health assessment following a 'widespread threat' while attending Susquehanna Valley Central High School, Buffalo Police Commissioner Joseph Gramaglia said over the weekend.
"We need to equip people in communities to identify signs of mental health issues and especially if those signs are associated with expressions of intent or interest in committing acts of violence," Mayorkas said.
The Department of Homeland Security participated in calls with the Department of Justice and the broader law enforcement community following the Buffalo attack. "What law enforcement wants to see from us is real-time actionable insights we can provide regarding the threat landscape. What do we know?" the secretary told CNN.
"We have a perspective that a local law enforcement agency wouldn't have. We understand the national picture," he added. "They want us to release this information as quickly as possible and provide as complete a set of information as possible."
Mayorkas told CNN earlier Monday that the shooting was being investigated as a hate crime, but declined to call it a domestic terror attack. "As for the tragic events of last Saturday, they are being investigated, as indicated by the FBI, as a hate crime," Mayorkas told CNN's Jeremy Diamond. "Domestic terrorism is a legal term, and because the investigation is ongoing, I'm not going to — I'm not going to use that term."
Federal prosecutors are working to bring charges against the shooting suspect, law enforcement officials said. These charges are expected in the coming days and would be in addition to state charges. The suspect was charged Saturday with first degree murder. He pleaded not guilty.
Attorney General Merrick Garland said Saturday the Justice Department was investigating the attack as "a hate crime and an act of racially motivated violent extremism."
"Increased threat" environment
The DHS has been warning for more than a year that people will use political ideologies to justify acts of violence.
In February, for example, the DHS warned in a national bulletin that the spread of conspiracy theories and misinformation is fueling the "heightened threat" environment in the United States.
The National Terrorism Advisory System Bulletin is the primary means by which DHS notifies the public of any changes in the terrorism landscape in the United States.
The February terrorism bulletin was in part a response to events including a hostage attack on a synagogue in Colleyville, Texas, and threats directed at historically black colleges and universities.
The primary terrorist threat to the United States continues to come from lone offenders or small groups driven by a range of foreign and domestic grievances "often cultivated through the consumption of certain online content," the bulletin said at the time.
"There are different authorities in different parts of government and what we are able to do is leverage research by organizations and institutions to identify trends," Mayorkas told CNN. "We communicate trends to local law enforcement, social service organizations, communities. That's what we do."
Title 42 remains uncertain
Mayorkas' remarks about the Buffalo shooting Monday night came as he traveled to the Texas-Mexico border amid uncertainty over the future of a Trump-era pandemic restriction, known as Title 42. The public health authority, which allows officials to turn away migrants at the U.S.-Mexico border, is set to end on May 23, but an ongoing lawsuit could thwart those plans.
The department has actively prepared for a possible increase in the number of migrants when the authority is lifted. These plans also require coordination with southern partners.
"It has to involve the countries south of our border. It can't be just the United States on its border. It has to involve a regional solution to what is a regional challenge," Mayorkas said.
DHS strives to have migration agreements with "many" countries, although these agreements may vary from country to country. The United States already has agreements with Costa Rica and Panama.
Texas Governor Greg Abbott, meanwhile, has sharply criticized the administration for its handling of the border, launching his own operation along the state's shared border with Mexico and bussing migrants released from prison in Washington, DC. Abbott is among a slew of Republican governors who have pushed back against the administration's immigration policies.
Asked if DHS could work with GOP governors amid the pushback, Mayorkas told CNN, "We've worked with state and local leaders on both sides. It doesn't help when measures are taken outside of a collaborative environment."
This story has been updated with additional information.