Asian hate petition launched following racist attack on Cambridge cooperative
[ad_1]
Content Note: This article contains a detailed discussion of racial violence, racist slurs and graphic images of violence
Yuanzhao Zhang, a Cambridge University alumnus, has launched a new petition titled "Stop asian hate", after being racially assaulted on September 18. Yuanzhao Zhang is 25 years old and previously studied for a Masters in Machine Learning at Darwin College.
The unprovoked assault took place at a cooperative on Mill Road during Zhang's weekly shop. Zhang said he was approached by about 10 teenagers in the cooperative's dairy aisle who started taunting him with racial slurs such as "slot" and "Return to your country of origin".
Zhang tried to get out of the situation by pushing through the crowd, but encountered violence, as the group started beating and beating him.
During the attack, Zhang suffered several injuries, including a broken nose and a septum. One of the perpetrators saw that Zhang's nose had been broken, and the group fled.
Zhang tried to pursue the attackers with the help of a passerby, but to no avail. The passer-by then drove him to Addenbrooke's Hospital where his injuries were treated.
Zhang noted that the "physical and mental damage is overwhelming" and has since required nasal surgery.
Following the attack, Zhang started a petition, "Stop Asian Hate", and wrote a joint letter from Cambridge Asian Community to Cambridge MP Daniel Zeichner calling for action. He also set up a forum where other Asian citizens in Cambridge can voice any abuse they have suffered.
The petition aims to raise awareness of the "growing trend of hatred towards Asian residents" and has collected more than 1000 signatures so far.
In his joint letter, Zhang urges Zeichner to "unite and engage all Asian students / residents, whether Chinese or Korean, Indian or Japanese, to tackle the growing number of hate crimes against Asians."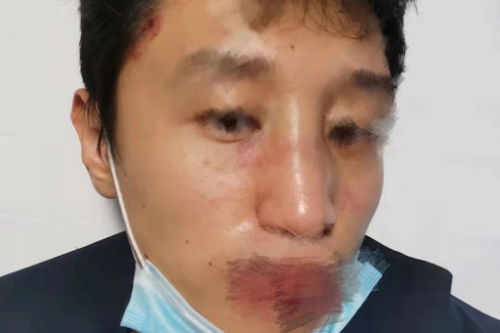 Zhang believes that the Covid-19 pandemic and Brexit have exacerbated racial tensions directed against the Asian community.
Zhang pointed out that other hate crimes had been committed recently and that he suspects are connected: "A few current Cambridge students suffered similar assaults outside Christ College and John Lewis in the city center last weekend."
"They were harassed and spilled with liquid, which almost caused a fight."
Zhang commented: "On behalf of the victims of a recent spate of hate crimes targeting Asian students and residents here in Cambridge, we believe that we have not heard our voice from the general public well enough." He also added that he feels "scared" and "furious".
Daniel Zeichner declared in response to Zhang's letter: "I was deeply shocked and saddened to learn what happened and the injuries suffered as a result of the assault. […] I am committed to doing what I can to help anti-hate efforts in our city. "
"I am meeting with the Cambridgeshire Police Chief very soon and will be discussing with him the best way for all of us to support the Asian community in Cambridge at this difficult time."
Cambridge Student Union BME official Tara Choudhury also commented on the incident, saying she was "horrified" to hear about the attack that took place on Mill Road.
"As a resident of Mill Road, a member of the Asian community and the university's BME officer, it disgusts me that such blatant racially motivated acts of violence can take place here in Cambridge and are on the rise nationwide. . "
Choudhury plans to visit the managers of the two Mill Road co-ops to discuss how to "confront anti-Asian hatred as a community and show active solidarity when these incidents occur."
She also contacted the Association of British and Chinese University Students (ABACUS) to further support Asian students and encourage students to get in touch with the Student counseling service for support.
"The rise in anti-Asian hatred in the wake of the pandemic has not gone unnoticed by myself or the League – I want to assure people that this is an issue that we are working on. to specifically address in anti-racism training for students and staff that is being developed with the BME campaign, "added Choudhury.
Police said "an investigation has been opened and investigations are ongoing."
The police pointed out that "[they] do not tolerate hate crimes and urge people to report all incidents, no matter how minor.
"We have a diverse community in Cambridgeshire and we recognize that everyone should be allowed to live their lives free from harassment and the fear of hate crime."
University is the independent journal of the University of Cambridge, established in its present form in 1947. In order to maintain our editorial independence, our print journal and news website do not receive any funding from the University of Cambridge or its colleges constitutive.
So we depend almost entirely on advertising for fundraising and expect to have a few tough months and years ahead.
Despite this situation, we will be looking for inventive ways to serve our readership with digital content and of course in print!
Therefore, we ask our readers, if they wish, to donate from just £ 1 to help us cover our running costs. Thank you very much, we hope you can help us!
[ad_2]