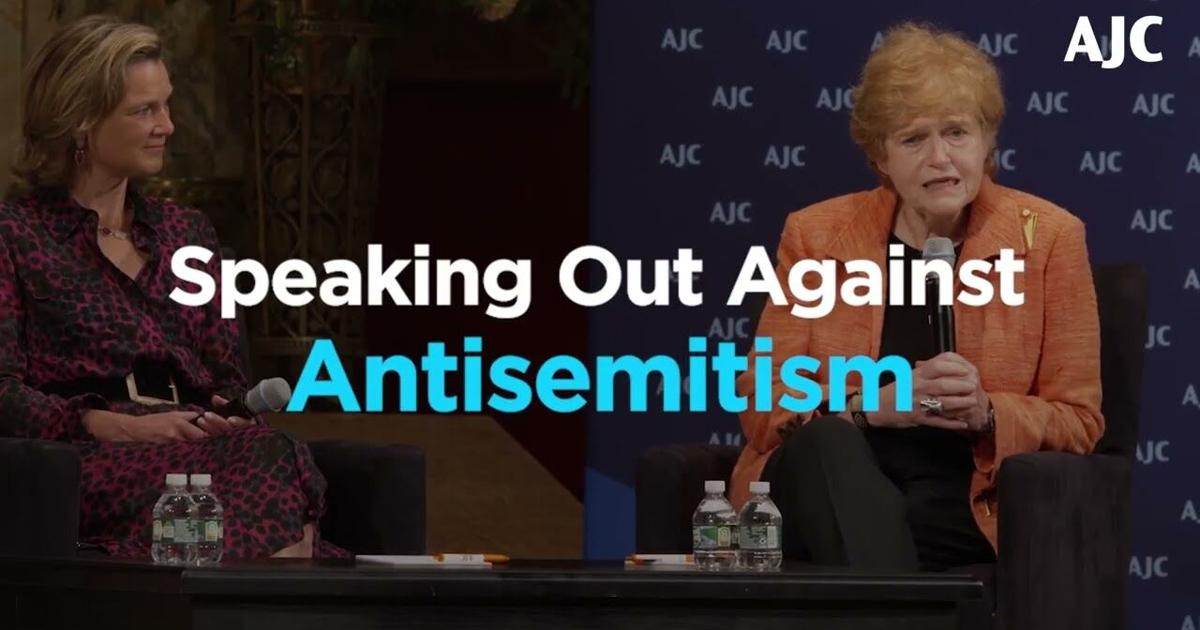 AJC Global Forum Addresses World Jewry Amid Hate | Local News
The American Jewish Committee held its first in-person World Forum in two years due to the COVID-19 pandemic from June 12-14 at Congregation Emanu-El in New York City.
World leaders, panelists, AJC staff and members of the Jewish community took the stage to discuss topics relevant to global Jewry, including the organization's work, anti-Semitism in the United States and globally, countering hate online, the state of the Middle East and Israel, American politics, Muslim-Jewish relations, and the state of American Jewry as a whole.
Lee C. Shapiro, regional manager for AJC Cleveland, told the Cleveland Jewish News on June 15 that the return to in-person programming was "incredibly exciting" among more than 1,000 colleagues.
"There was a sense of excitement and energy about being together – knowing that the challenges ahead are significant," she said. "But, in this, AJC is here to tackle these issues and bring about change. The mission is essential, the passion runs deep, and AJC has the will and the tools to drive this change and create a safer world for all of us and for generations to come.
Over its three days of programming, attendees heard from Deborah Lipstadt, U.S. Special Envoy to Monitor and Combat Antisemitism; Katharina von Schnurbein, European Commission Coordinator for Combating Antisemitism and Promoting Jewish Life; Peter Stern, Director of Content Policy Stakeholder Engagement at Meta; Eric Ebenstein, Director of Public Policy at TikTok; US Secretary of State Antony J. Blinken; Richard Haas, Chairman of the Council on Foreign Relations; Walter Russell Mead of the Hudson Institute; Constanze Stelzenmuller of Brookings Institution; Gilad Erdan, Israeli Ambassador to the UN; Lana Nusseibeh, Ambassador of the United Arab Emirates to the UN; Omar Hilale, Ambassador of Morocco to the UN; Jamal Fares Alrowaiei, Ambassador of Bahrain to the UN; James Carville, Democratic strategist; Leslie Sanchez, Republican strategist and political commentator; Noa Tishby, Israeli-American actress, activist and author of "A Simple Guide to the Most Misunderstood Country on Earth" and Israel's first special envoy to fight anti-Semitism and the delegitimization of Israel; Bret Stephens, New York Times columnist and Sapir editor; Pamela Nadell, professor of history and Jewish studies at American University; David Baddiel, actor, author and screenwriter; Rachel Fish, co-founder of Boundless; Yair Rosenberg, writer for The Atlantic; Jacob Kornbluth, senior political reporter at The Forward; April Powers, First Impression Rx Managing Director DEI Strategy; and Andrew Rehfeld, president of the Hebrew Union College-Jewish Institute of Religion, and others.
With the 2022 Global Forum being her first time as president of AJC Cleveland, Jill Zimon told CJN on June 15 that the experience was "incredible." Previously, she participated in five other forums as a board member.
"There was a Saturday night gathering at a private home for presidents and former presidents, and it was perfect," she said. "So far, I've only seen other presidents on Zoom. It's been difficult to come in as a president in the pandemic. We're learning from each other and it's going to take time to digest it all, but it was awesome.
Zimon said the attendance speaks to the AJC's influence in the Jewish Diaspora and beyond.
"I was really experiencing this incredible and unique strength in AJC's global presence," she said. "And the quality and quantity of the relationships we have around the world. I'm very proud too – which was another great message. Not just to feel Jewish and proud, but to do everything we can to act and behave that way too.
In the same vein as the international impact of the AJC and its forum, Ukrainian President Volodymyr Zelenskyy spoke on June 12 about the state of the ongoing Russian war. It included updates from the front lines and a call for international communities to redouble their efforts and stand with Ukrainians. Yair Lapid, Israel's Alternate Prime Minister and Minister of Foreign Affairs, described on June 13 the current global struggle between good and evil, as well as the common bonds shared by Jews around the world and the commitment of the Israeli government. towards the diaspora.
"We think our biggest test is not just reaching agreements, but managing disagreements," Lapid said. "I don't want to live in a country where families are torn apart because of politics, a country where I don't have friends who think differently. There are many in our government who think differently from us – and they are my friends and partners. We do not put our ideas aside. On the contrary, we fight for them, understanding that we have a common goal that is bigger than ourselves. That goal includes you. That includes the diaspora.
A tribute to outgoing AJC CEO David Harris was held on June 13. Harris resigned in May after more than 30 years at the helm of AJC. He will remain as a consultant until June 2023.
A letter from President Joe Biden was also read by AJC Policy and Political Affairs Officer Jason Isaacson commending Harris for his lasting impact on the AJC and the Jewish community around the world.
"Thank you for the privilege of this incredible trip," Harris said in his remarks. "Thank you all for doing these last 32 years and the 11 before that when I was still at AJC. Am Yisrael Chai.
Shapiro said witnessing the tribute was very meaningful, considering all the time she spent working alongside Harris at AJC.
"Knowing that the torch has passed, once again, to brilliant leadership shows that AJC is here for the long haul," she said, referring to AJC's new CEO, Ted Deutch, a former of Clevelander. "So for me, the highlight was this tribute, which symbolized all that David has achieved and allowed me to achieve. And knowing that we are going from strength to strength. There is so much work ahead of us, and I am convinced that AJC is the way for me to make a difference. There is hope for the future, and it is brilliant.
Attendees also heard a one-on-one chat with Deutch on June 14, moderated by journalist and author Abigail Pogrebin. He will assume the role on October 1.
Deutch said he hasn't lost the "huge shoes" he will have to fill during his tenure as CEO. Prior to accepting the role, Deutch had served as a United States Representative in Florida's 22nd congressional district since 2010, "leaving a place that is, suffice it to say, not the best institute that is currently operating", did he declare.
"I planned to continue doing this, but this opportunity came up," he said, acknowledging the work that lay leaders and professionals at AJC do every day "giving their all for the cause."
"…I can't try to fill David's shoes," he said. "But, I can absolutely recognize that it is thanks to David's leadership over the years that this organization is so poised for future growth and success, and the opportunity for all of us to build, together, a better future for the Jewish community."
The AJC also presented the Moral Courage Award to Masih Alinejad, an Iranian activist. The AJC honored her for her "moral, intellectual and physical courage, her extraordinary bravery and her commitment to the protection of human rights", said Lisa Pruzan, member of the National Board of Governors of the AJC and the AJC Women's Leadership Council at the award ceremony. The 2022 Sharon Greene Campus Advocacy Award, presented by Allison Greene, was awarded to Indiana University Hillel and Hillels of Ukraine, which also received a grant from AJC's StandWithUkraine Fund.
Closing the forum on June 14, Harris delivered his final remarks as CEO of AJC. He was interviewed by Deena Fisch, Deputy Director of Digital Advocacy at AJC, and Abe Baker-Butler, Yale University student and 2020 AJC Harris Scholar, in a segment titled "L'Dor V'Dor: from generation to generation ."
"I'm the luckiest person in the world – I've never had a job, never worked," Harris said, although he admitted he didn't want the job when he first was proposed for the first time. "My job was my life. My passion. My mission. My calling. Someone paid me to do this? I would have paid AJC for this work. It is the honest truth of God. I was a kid in a candy store from day one until now – and I intend to be until the close of business on September 30.
Michael L. Tichnor was elected president of the AJC, succeeding Harriet P. Schleifer, whose three-year term ended with the conclusion of the forum.
Next year's forum will take place in Tel Aviv.
For more highlights and addresses from the AJC Global Forum, visit ajc.org/globalforumnews2022.